Posted:
July 14th, 2011 |
Author:
admin
|
Filed under:
bicycles
|
No Comments »
One day, many years ago, I asked the Internet for an Annapurna through some Google searches. Lo and behold, I found one. A little sleuthing later, I was able to contact the owner of this:
It was a very nice find for me. Just my size, cool color and Rocky Mountain heritage too – it was an export model. Some horse trading later and the bike was on its way to me. It arrived well packed and I rushed to set it up. A little while after the initial rush, I noticed that the bike was "crying." Not a good sign. Closer inspection showed some paint bubbling around the bottom bracket. I poked the bubble with a pin, gently, and disturbingly, it easily penetrated the metal and some water came out. Ugh.
The seller and I corresponded and agreed that we would adjust the price by the amount of the repair. The problem is that this bike has a distinct and complex construction. While most mountain bikes from the period (c. 1986) were TIG welded, fillet brazed or lugged, the Annapurna utilized a classic bilaminate construction technique were lugs were formed from elegantly cut lug-like sleeves were brazed over the tubes. The maximal artistry on an Annapurna is around the seat cluster. And there was the problem – the damage was manifesting itself at the bottom of that tube, like so:
I reached out to a number of framebuilders but Rody at Groovy Cycles was the man most interested in the job. Rody is an accomplished framebuilding in his own right, and has refocused his efforts at custom frames and components, but he has been tempted by interested challenges. This project tickled his interest.
Rody's plan was to cut the tube in half and to only replace the bottom, recreating the fillet brazed at the bottom bracket juncture. The center of the tube would be connected by TIG welding. When the paint came off Rody identified 11 other compromised areas that he set about fixing. He is truly a classic bikes saint.
Now the tube has been replaced, holes have been patched and paint is ready to be laid down. The recreation of the bike will be pearl white. I am really looking forward to it.
While I am waiting for the Annapurna to come back from paint, I will amuse myself with Power! (especially after I remove the dorky wheel cover)
One problem though…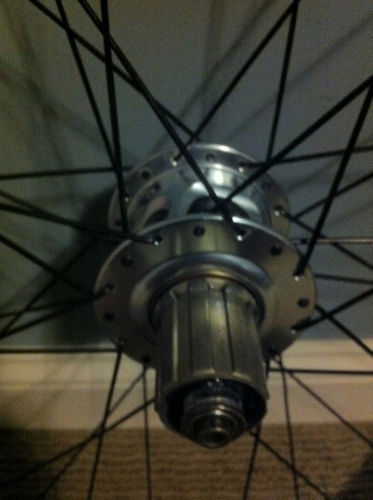 But fortunately, there is a solution.
---