Posted:
August 14th, 2011 |
Author:
admin
|
Filed under:
bicycles
|
No Comments »
The WTB Phoenix is a real classic hard tail. The bike's design fused concepts from Charlie Cunningham and Steve Potts. Most were steel, but in the final couple of years Steve built up titanium versions too. From what I can tell, the bikes weren't really that appreciated when they came out. The price tag was high and the bikes are the definition of low key. They flew in the face of the nascent rear suspension boom. I recently finished some clean up on my 1996 Phoenix. Pics to follow in a later post. One item I had been looking for was a nice 120mm 1 1/8 threadless stem. I was happy to find this Steelman stem on eBay. Nice Bay Area provenance and a fit with my blue and silver scheme.
I also recently picked up a replacement chain for my road bike. I am using 2008/9 Super Record parts and find the drivetrain feel a little … funny. I can't exactly say way but it isn't smoove like Dura Ace. I am probably replacing the chain on the early side, but here I am after about 4000k.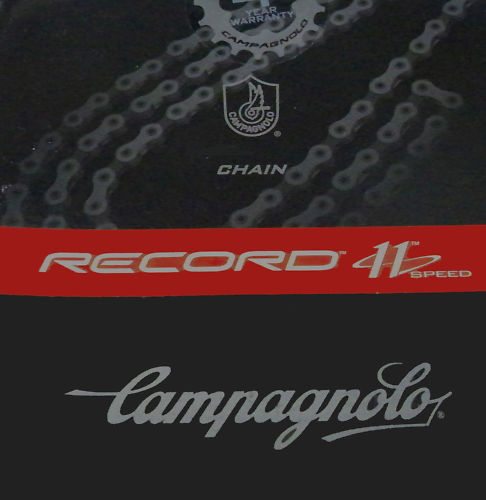 Just got back from the Netherlands, the famed land of bikes. To be frank, the Dutch bikes really aren't my scene. I can dig them as a means of getting around, but I think that they end up squeezing out nicer bikes. Everyone uses bikes but in an all business, passionless way. Still, I could enjoy going full hipster.
Riding in Holland wasn't all upright cast iron clunker. I met up with a buddy from the south and we banged out around 40k through fast and twisty rolling trails. It was a very good time. I can't help but think that the Netherlanders appreciated how my team kit reflected Dutch livery.
In Amsterdam I was psyched to see what was billed as one of Joop Zoetemelk's pro bikes. Sure the build was horrendous (at least in parts – see the levers) and the provenance was suspect, but still – Joop. For those who don't know him, think of a Dutch Hincapie. I do worry that with the bike sitting in that window, the outward facing half is destined to get steadily lighter.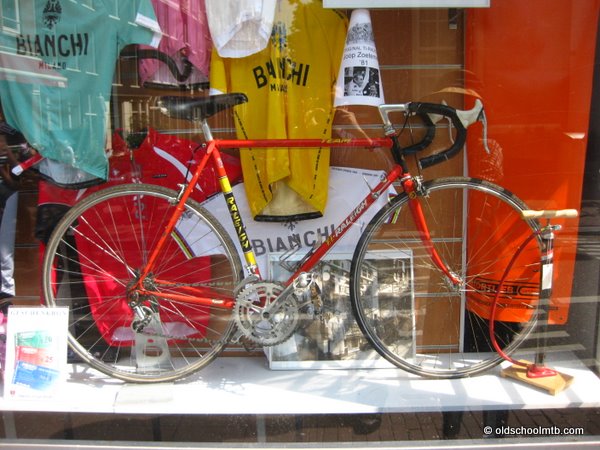 Better yet, on a day trip to Antwerp, I stumbled onto a pro derny criterium. As much a spectacle as a race, each (or at least most) riders get to ride behind a pace moto. The pace was high and I believe that Robbie McKewen won again (he took this race last year too). Very cool to see him, the Schleck brothers and other pros so close. Those are some lean chaps.
Ok, with all this positivity out of the way, let me vent a bit about Fizik's Dual Tape. This stuff is one of those products that just makes you go, WTF. The idea is to provide a bar tape with the durability of … a very durable thing, and the shock absorption of … a very shock absorbing thing. So, the mad geniuses at Fizik found a durable thing and a shock absorbing thing. And then, they noticed that these two things were different. They then concluded that the best way to capture these characteristics was the stitch the two things together. The result is a stiff and slippery tape. The stiffness confounds attempts to install the stuff, but the styling ensures that even if you have installed it, your bike will look like ass. I spent a lot of time looking at finished tape jobs and have yet to find one that looks half way decent. It should have been a tip off that Fizik does not provide pictures of taped bars, or even instructions on how to apply this fiendish tape, on their site. One more time, two get a two-characteristic tape, they … stitched together two different kinds of tape. So dumb. I feel bad for my poor Vamoots.
---