Posted:
February 6th, 2011 |
Author:
admin
|
Filed under:
general
|
No Comments »
There is a loop that I have enjoyed for many years that goes through the mountains in the north of Osaka prefecture. The ride offers challenging and scenic climbs. The climb is also often a great spot to see families of nihonzaru – Japanese monkeys. The primates are also known as snow monkeys and are often photographed enjoying hotspring baths during the winter. Midway through the climb you get to Mino waterfall, which has been celebrated in poems for centuries. After a brief plateau, the climb continues on to the Katsuoji temple. From there I usually descend and then make my way back through the city. If a longer ride is desired, it is possible to take roads deeper into the mountains for more climbing and more beauty.
The loop can been ridden from the Katuoji side as well, that is, you can climb to Katsuoji, descend to the waterfall and then continue to descend into the city. I don't like this route as much, finding the descent much less fun.
From downtown Osaka, the ride is around 40 miles and has around 2000 feet for elevation gain. The biggest bummer is that the city part of the ride can be slow as you navigate river crossings, which typically require you find a route that is available for bikes.
The climb is nice, lots of trees, narrow winding roads.
There is a path that goes from Mino Hankyu train station to the waterfall as well. I haven't spent as much time on it as I might. Snow was falling on my ride but the weather wasn't too cold.
I finally have a road bike to ride in Japan, in the past I've ridden mamacheri (commuter bikes), mountain bikes and bikes built from found parts. The road bike is the way to go.
My ride of choice is this 1986ish Look Hinault. The bike is built from exotic Reynolds 753 and is equipped with a mix of C Record and Mavic SSC parts, with a Dura Ace freewheel. I could use a slightly lower gear. The wheels are Mavic MA50s – kind of like the SSC of clinchers.
I like to get a can or bottle of soda or tea before hitting the climb.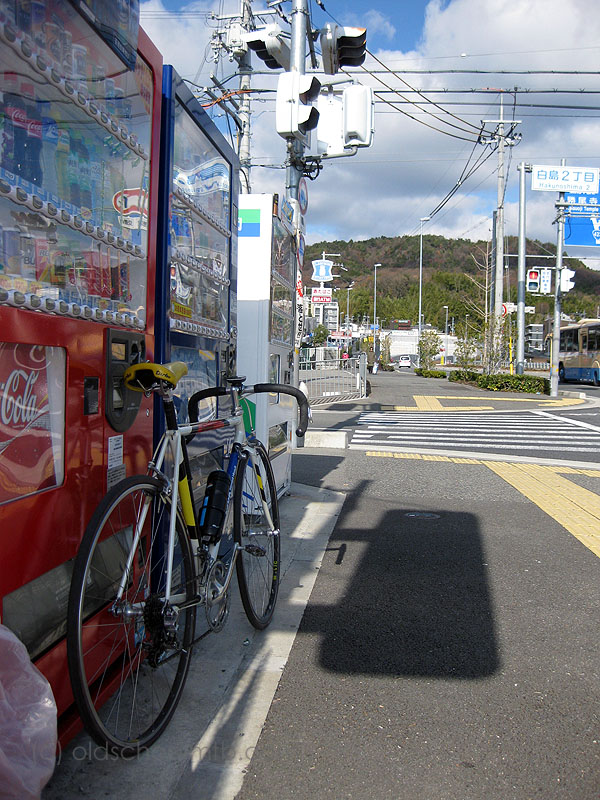 During New Years, the line of cars to Katsuoji temple extended nearly to bottom of the climb.
Once I got get back to the city, I like to enjoy ramen in Umeda.
---